'Paninaro' fra 1986 var øjeblikket som gjorde Pet Shop Boys til meget mere end en gulity pleasure her. Sangen, der i første omgang kun blev udsendt som single i Italien, optrådte for alle os andre som B-side til 'Surburbia' og på den fremragende PSB-mixopsamling Disco. Grunden til den eksklusive italienske udgivelse var utvivlsomt tekstens omdrejningspunkt, en hyldest til Il Paninari, en større gruppe milanesiske rich kids med hang til ekstravagant dyrt mærketøj, synth-pop og hedonistisk livsførsel. Kendere af Pet Shop Boys vil allerede vide, at det på 'Paninaro' undtagelsesvis ikke er Neil Tennant men hans makker Chris Lowe der er bag mikrofonen, der givende samme indtryk af cool ubesværethed, som når han i PSB's samtidige video- og TV-optrædender spiller keyboard. Iøvrigt påfaldende omkring 1986-87, hvor inspirerede Pet Shop Boys og New Order syntes at være af hinandens samtidige plader. Hvilket der kun kom yderligere store ting ud af.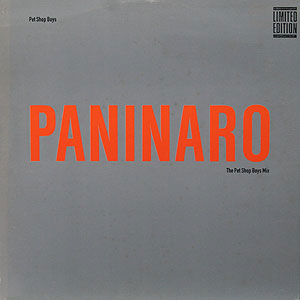 I don't like country and western.
I don't like rock music, I don't like rockabilly or rock and roll particularly.
I don't like much, really, do I?
But what I do like, I love passionately.