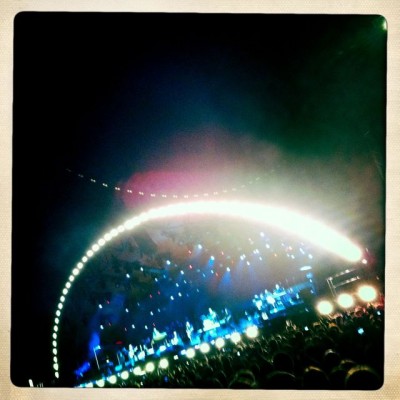 I har læst anmeldelserne og de lyver ikke. Bortset altså fra Treo's i EB, men han skal også spille op til sin rolle som musikmiljøets's Sørine Gotfredsen. Koncerten på Orange Scene? Fantastisk. Intet mindre. Springsteen's lysende aftener som den i går får alle andre artister til at fremstå……….ubetydelige?

No Surrender
Badlands
Two Hearts
We Take Care Of Our Own
Wrecking Ball
Death to My Hometown
My City of Ruins
Spirit in the Night
The E Street Shuffle (with The Roots)
Jack of All Trades
Trapped
Because the Night
Working on the Highway
Shackled and Drawn
Waitin' on a Sunny Day
The River
The Rising
Out in the Street
Land of Hope and Dreams
+ + +
We Are Alive
Born in the U.S.A.
Born to Run
Glory Days
Dancing in the Dark
Tenth Avenue Freeze-Out
Twist and Shout
Tal om overskud: talte 6 aktive tambourinespillere + 1 koklokkeudøver på scenen allerede i 'No Surrender'.