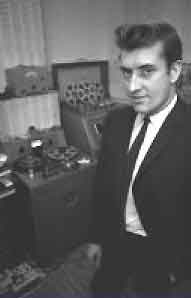 Endnu en mærkedag i rækken af rockikoner, der blev mordere. Netop i dag er det præcis 40 år siden den britiske producer Joe Meek skød sin værtinde og derefter skød sig selv.
Joe Meek var også: En sangskriver, der ikke kunne spille et instrument. En spiritist med et brændende ønske om at få kontakt med Buddy Hollys ånd. En bøsse, der levede på et tidspunkt, hvor homoseksualitet ikke var almindeligt accepteret i Storbritannien. Alt i alt en kompliceret skæbne.
Ikke mange kan huske Joe Meek selv, men hans hits fra 1960'erne er der sikkert mange, der kender. Instrumentalhittet "Telstar" er efter sigende Margaret Thatchers yndlingsnummer. Derfor kan det dog alligevel være værd at lytte til.
Husk at der for nylig er udkommet et dansk hyldestalbum til Joe Meek, The Lady With The Crying Eyes. Selveste Henrik Hall synger nummeret "Just Like Eddie".