En klassisk britisk single fra 1992, der desværre ikke havde kortheden til nogensinde at blive et hit. Og for mange lød sanger Liam Maher måske også for meget som Shaun Ryder til, at han nogensinde var istand til at træde i karakter, som andet end et ekko af de vilde ting der netop var sket oppe i Manchester. Ikke desto mindre fik den næsten 13-minutter lange 'Weekender' subkultstatus som nummeret om at leve for weekenden og leve hårdt i den. Flowered Up kom fra Hemel Hempstead, en lille by mellem Watford og Luton, og forsvandt relativt hurtigt og ubemærket igen. Liam Maher døde – helt i tråd med denne sang's hedonistiske tema – af en overdosis heroin for små tre år siden. 'Weekender' består heldigvis og lyder stadig fantastisk på vej ud i byen en fredag/lørdag aften.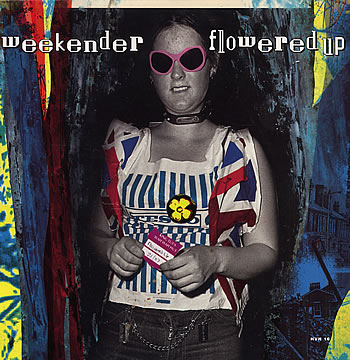 I see you everyday, you walk the same way
Weekender
You go to work, Friday is payday
Weekender
Give it up, give your wife up
Weekender
Weekender – weekender
Go out, have a good time
Weekender – weekender
Go out have a good, good – good, good time
What you say weekender, we can work it out
We'll work it all out
Don't you hate, hate what you are
I'll give it up, I'll give it to you, you
Come on weekender, we'll go out,
We'll have a good, the best times
Right weekender, hows about we work it out
Weekender we could have such a good time
Show you, help you, a better way, a better day
A better way
A better life – weekender
Right, weekender we're going out
You wash, blow dry your hair
New shoes, new suit
Oh, I say you look so super
Weekender you're looking good
Don't you hate, don't you hate what you are
Weekender
Don't you hate what you are I ask, I ask you
Weekender
Look around, don't you feel a clown
Weekender, fuck off
Fuck off and die – I'm hating you
I hate you – goodbye
I'm slipping, weekender – weekender
Slipping down – down
Weekender weekender
Go out have a good time – the best time
Go away – away away away – sit back
Let it flow
Just like a little (have a good time)
Have a good time, have a good – good time
No work just party – party!
You got a new skirt, you got a new suit
Saved your life for a two day flirt boy
You pay the price coz Monday sure does hurt
Tell at work your weekend tale
Still need the pleasure of dirty sale
Monday's back – what can you do?
Been away. Been away. You've seen a lot wow, wow
Weekender whatever you do – just make sure what
ya doing makes you happy
© Liam Maher/Flowered Up