http://www.jensunmack.dk/wordpress-3/wp-content/images/thumb-LWW.jpg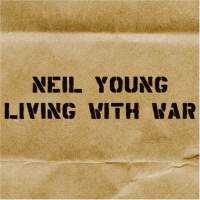 Hvem skulle have troet 2006 ville bringe en samling indædte old school-protestsange fra Neil Young!? Living With War er sådan en plade og kommer med en anden, større og mere vedkommende ild end de seneste mange Young-udgivelser. Der er intet mindre end både vestlig selvopfattelse og samtid på spil her. "Dont need no more lies", råbesynges der symptomatisk igen og igen, halvt befalende, halvt bønfaldende, på "The Restless Consumer", en af hjørnestenene på Living With War. Om det så er George W. Bush-administration, krig i Irak, de kreative påfund for at få den retfærdiggjort, New Orleans-svigt, fattige amerikanere, 9/11-USA, er der ikke meget, som går disse massive, sært smukke sange, om en verden i moralsk opløsning, forbi. Nogle vil nok finde det tåkrummende naivt, at udsende noget så firkantet subjektivt. Andre vil høre og opleve en mand, der i meget lang tid ikke har lydt så levende direkte i sin musik som her. Sjældent og livsbekræftende er det ialfald med en etableret rockstar, der tør synge ufiltreret hvad han mener, uden bleg frygt for hverken tabt markedsandel eller offentlig latterliggørelse. Og tænk så lige engang hvad dét indebærer: Rockmusik kan stadigvæk betyde noget. Tak for det og keep on rockin' in the free world, Neil Young!
LET'S IMPEACH THE PRESIDENT
Let's impeach the president for lying
And leading our country into war
Abusing all the power that we gave him
And shipping all our money out the door
He's the man who hired all the criminals
The White House shadows who hide behind closed doors
And bend the facts to fit with their new stories
Of why we have to send our men to war
Let's impeach the president for spying
On citizens inside their own homes
Breaking every law in the country
By tapping our computers and telephones
What if Al Qaeda blew up the levees
Would New Orleans have been safer that way
Sheltered by our government's protection
Or was someone just not home that day?
Let's impeach the president
For hijacking our religion and using it to get elected
Dividing our country into colors
And still leaving black people neglected
Thank god he's cracking down on steroids
Since he sold his old baseball team
There's lot of people looking at big trouble
But of course the president is clean
Thank God
© Neil Young